It seems such an obvious question!
We all participate in a massively competitive world that is full of business risks.  None of us really want to lose sales because our systems and processes allow good leads to be lost, opportunities to fail, follow ups to not be made when they need to be made.
And nobody wants to waste money on marketing, lead generation, pre-sales and sales resources for the effort to be wasted through lost sales because of a poor/under used/disused/badly implement CRM system – take your pick!
Cash is King – where does it come from!
Losing a sale can not only reduce profit but could be make or break between profitability and potential ruin.
If your overheads are broadly fixed then the effect of gaining or losing a sale can be measured in gross profit terms – and that could be huge – just imagine if your lost sales could be converted to cash at gross profit levels – so many business problems are solved by not losing sales!
Clearly each business has its own calculations to make – but business fail because they run out of cash – which comes from sales.  And business go interstellar because they convert more sales opportunities – it is obvious so why not make it easy for your team.
So if you don't process leads…
Take the staggering statistic that over 75% of all leads never get processed by the sales team!! WHAT?? – A lot of that has to do with poor processes, absent/difficult CRM systems and non existent communication.  It cannot always be somebody elses fault (ie the "lazy" sales team!)
There are standard ways CRM can help your business:
Find the right customers at the right time
Create better relationships through appropriate timely communications
Reduce the actual costs of the sales process by making information available when its needed without involving human hours where possible
Improve customer retention (see 2)
Offer better customer service by systemising workflows
Increase productivity by removing needless roadblocks in process
Most of all though, if you took the time to analyse your processes and invested in an appropriate system you could automate huge areas of your workflows to massively profitable effect.
"What gets measured gets done/improved on…"
A key mantra in business is "What gets measured gets done/improved on…" so make sure you are targeting the right activities and measuring performance against those targets – don't waste time reporting on activities that you have no intention of changing, or that will only deliver tiny margins of improvement.
Clean and Prospect and RECORD
Are you really cleaning your data enough?
Are you speaking to your prospects at the right time, educating them when they are in research phase and serving their needs when they are in buying mode?
Are your sales team recording qualification data sufficiently to build up a clear picture of "Budget/money, Authority, Needs analysis and Timescale"
Do your sales team and telemarketers update the system or is it just too difficult?
Can they update systems on the move, can they dictate notes into CRM?  Can they copy documents full screen and can they scan documents attach files and pictures into every aspect a contacts records? Easily?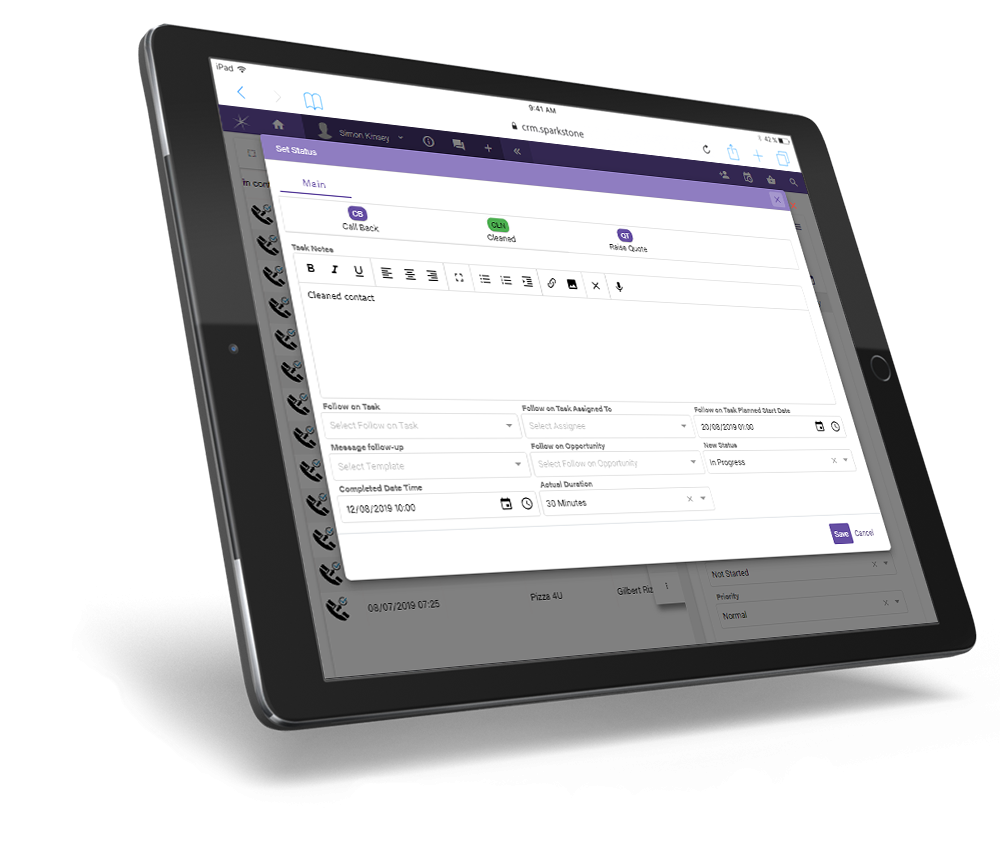 Automation – the salvation in this day of limited resources and efficient systemisation
It's extraordinary – in this day of speed of light communications via multiple media we still fail to deliver messages at the right time to the right person.
Are you using your CRM to manage all the communications to leads – are you following up with good old-fashioned phone calls and adding to the information garnered to find out "when they are really hot to trot?".
Lead generation and sales processes need to be diligently repeated over time to yield results.
Can you use your CRM to "stay in touch" in the right way – are your sales team there at the right time with the right offer.
Call us!
If you would like to find more about how Sparkstone CRM can help you stop losing sales thrive the feel free to get in touch – we love to help business grow.