You are an enlightened marketer using all of the latest techniques to bring in lots of new enquiries for your products and services. You're taking advantage of social media, networking events and maybe even Adwords to get your message across. Even your website is top notch. The trouble is you don't have visibility into your cost per lead, cost per opportunity, or most importantly, cost per sale for a particular lead source.
Why not? Because most companies, no matter how marketing savvy, pass sales enquiries (leads) over to their sales teams as soon as they come in, sometimes on paper, but mostly likely through email. If your sales team uses Outlook as a contact manager your visibility into what lead sources, messaging or offers work becomes at best, based on hearsay. If you are using a Customer Relationship Management (CRM) tool you are probably noting down lead sources. But are you recording the cost of that lead and follow-on touchpoints through to abandonment or win?
Your goal should be to have a view into the total estimated cost of a prospect from the time that they raise their hand until a sale (or loss) is achieved. If you do it right, you'll be able to measure cost by lead source, campaign or sales stage. And if you find out you're failing, you can fail fast and move on to more profitable sales and marketing techniques.
So, what to do? If you don't use a CRM – get one! If you are using a CRM, make sure that you have it implemented so that each task completed by a marketer or sales rep comes with an associated cost. You'll then be able to determine, win or lose, what the cost of that lead or lead source was through the selling process.
Recently Sparkstone CRM worked with a company that makes very specialised capital equipment that was primarily using trade shows for lead generation.  Their cost per lead alone was in the £300 – £600 range, depending on the event!
Following leads kicked off an average of a 2 year sales cycle with many face to face sales calls worldwide. It's not surprising that their cost per sale sometimes amounted to tens of thousands of pounds.
By helping them set up a CRM with a 360 degree view of sales and marketing we were able to try out new lead acquisition channels and monitor which were successful. We were also able to implement automated emails and texts to help build trust and further qualify the prospect before making a face to face call.
Not only was the CRM justified, both in terms of the sales and marketing expense, but the sales cycle was substantially reduced while visibility into the sales cycle of the prospect was increased.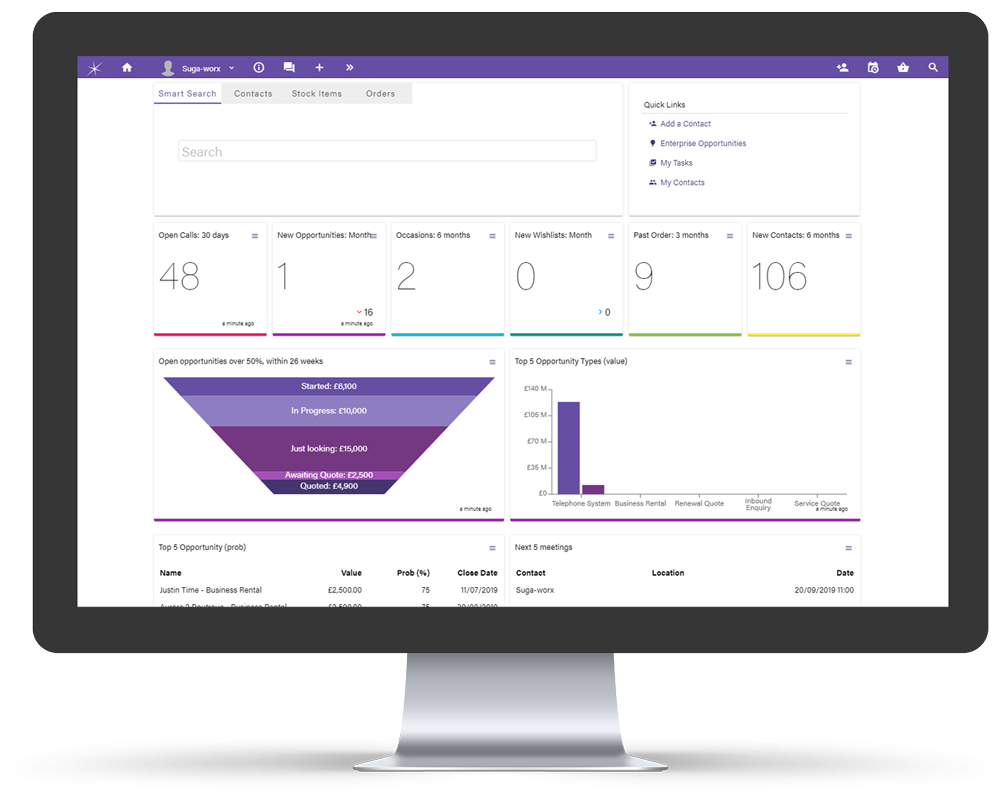 Key takeaways:
Make sure that you are using your CRM for more than just a contact management tool.
Ensure you have a procedure where all leads are entered into the CRM by campaign and source, and have been allocated an associated cost before being assigned to Sales.   
Beyond that simple step, If you have implemented your CRM correctly, it should be providing you with a 360-degree view of the lifespan of your customer. Work with your CRM provider to ensure that you cost each touchpoint (e.g. emails, phone calls, meetings, demos, etc.) automatically so that you can cost out each opportunity. Finally, make sure that you have good sales enablement tools at the ready (more about this in a future blog) and that they can be sent either manually or automatically through your CRM. Do these things and you should start to see your sales and marketing expenses retreat. Talk to Sparkstone.